Please use the Customer Support page as your first form of contact.
However, if you've been asked to Join a Live Support Session then use the link below to do so..
If you are not already on the phone with tech support then call us at (803) 485-1544 first.
We are committed to answer all phone calls and emails within 24 hours.
If you call and we don't answer please leave us a voice message so we can return your call.
Only use the button below if requested to start a screen sharing support session by one of our phone representatives.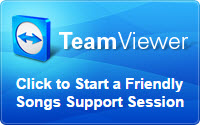 Use the link above for a Temporary Support Session.
Use this link to setup Remote Unattended Access to your computer.